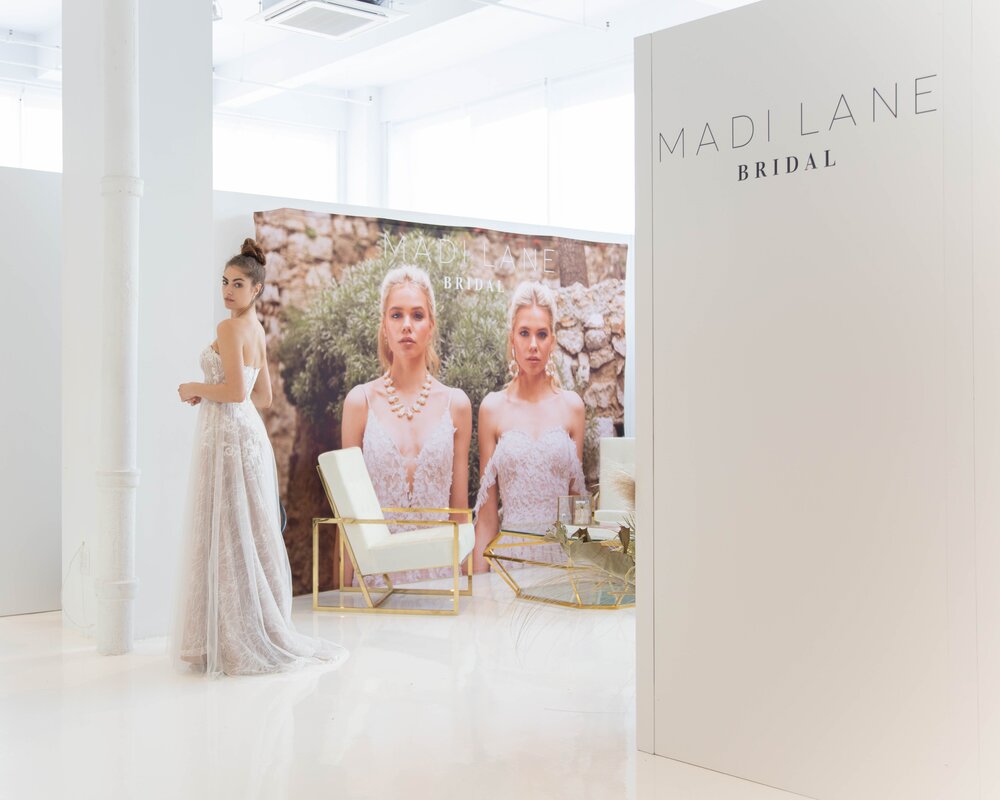 New York's One Fine Day Bridal Market is an occasion that can't be missed. This year's event is scheduled for April 19 and 20, and it promises to offer access to some of the best wedding dress designers in the industry. David G. Flatt is proud to partner with One Fine Day wedding fair to design a market that has a cohesive look while still highlighting the individuality of the brands being showcased to industry buyers and media.
WHY BRIDAL MARKETS?
According to Grand View Research, the size of the wedding wear market is only expected to grow. It is predicted that this market will be worth as much as $87.9 billion by 2025. As this industry continues to grow, it will only become more lucrative for designers and buyers alike.
Bridal markets give you an excellent opportunity to take advantage of this lucrative industry. These events attract both buyers and the media, showcasing pieces from multiple brands.
MAKE YOUR BRIDAL MARKET STAND OUT
Bridal markets are all about beauty and elegance. Because there is so much variety and luxury in these markets, you need to find a way to give your market a cohesive look, while still making each exhibit memorable. Not only will a consistent aesthetic improve the overall experience for attendees, but it will also position your market to seem more experienced. More experienced markets, such as One Fine Day Bridal Market, attract better brands and offer better outcomes.
The best way to achieve a consistent aesthetic is by working with a proven show manager. In addition to helping you establish the look and feel, a good show manager will also use quality materials that add class and sophistication. Because your market will bring in a range of attendees, with an eye for quality, choosing the right trade show exhibit designer is critical for your market's success.
WHY CHOOSE DAVID FLATT DESIGN?
David Flatt Design has over 25 years of experience designing custom booths and exhibits for sought-after trade shows and conventions like the One Fine Day Bridal Market. DFlatt has also designed for LIGHTFAIR International, Fancy Food, The National Restaurant Show, Magic, Coterie and more.
We understand the importance of effective pre-show preparations, and we have extensive experience in managing preparations and logistics. With so many different brands participating, your bridal market has many moving parts. We know how to manage the brands and their individual ideas for their booths while still maintaining the overall guidelines for the look of the market. We are also comfortable working within the set-up and breakdown requirements of whatever venue you choose.
David Flatt offers comprehensive services to clients, including:
Custom designs based on each brand's vision and goals.

Customized modular walls configured to meet client needs.

A variety of flooring options, including carpet, vinyl and hardwood.

Graphics, set paper, wallpaper and logos created to meet client specifications.

A full catalog of options, including mannequins, chairs, tables, rugs and storage rentals.

Set up, break down and storage services for your convenience.
All of our services are fully customizable and will be tailored to meet each brand's specific requirements. 
If you want to put together a bridal market NYC attendees will remember, you need the right designer. Please contact DFlatt today to learn more about how we can help you achieve your goals.