For great trade show walls, there are some options to consider. In the past, many companies opted to simply use the fabric walls that are standard at many shows, but today's trade show exhibitors are finding that these walls may not provide them with the sturdiness and the shielding from their neighboring booths that they're really looking for. That's where we come in. Our portable trade show walls are the answer companies are looking for and create a truly comprehensive trade show experience for people.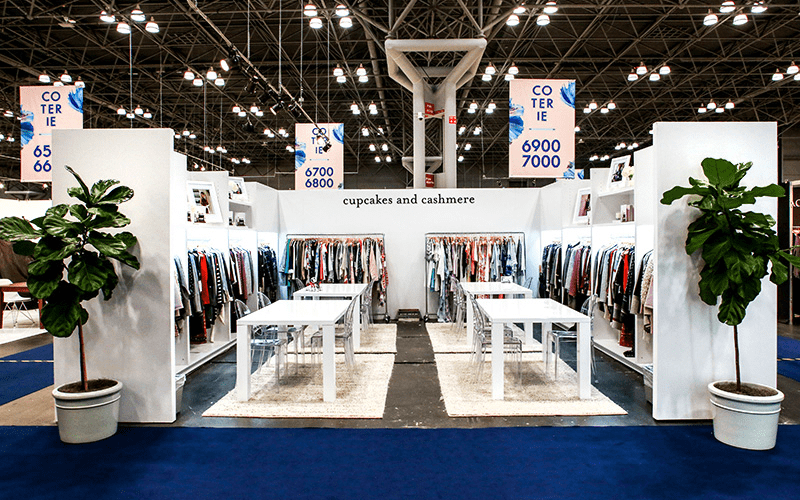 Custom Trade Show Booth Wall for Cupcakes & Cashmere
THE DISCOVERY AND DESIGN PROCESS
When designing a trade show space, your brand will likely know the size of the ares you're working with. In most cases, you'll have the dimensions of the trade show booth or other space, and are looking for the best ways to design and use that space. But that's not always the case. Sometimes, a brand is unsure of the space they'll be exhibiting in or more likely, don't know exactly what they need, because the brand hasn't done a trade show before.
For brands who are fairly new to the trade show experience, we want to make sure they understand that there are some specifics to consider. For example, most pieces you'll be using for their trade show display walls have to be shipped at least one week ahead of time. This means that planning ahead of time is very important. The booth has to be ready prior to shipping so making last-minute changes isn't always realistic and should always be avoided if possible. We can help educate anyone who's in that situation in order for them to get the trade show layout they're looking for.
Discovery and exploration are very important for that initial aspect of creating the portable trade show walls. A company may find that they want their modular trade show walls to have color instead of being white. They could be interested in an identifying element from their showroom or brand, too. Our team can expand on that or help add elements that make the brand stand out, and discuss time, cost, and other factors that will affect their trade show experience and the needs they have for their time at the show.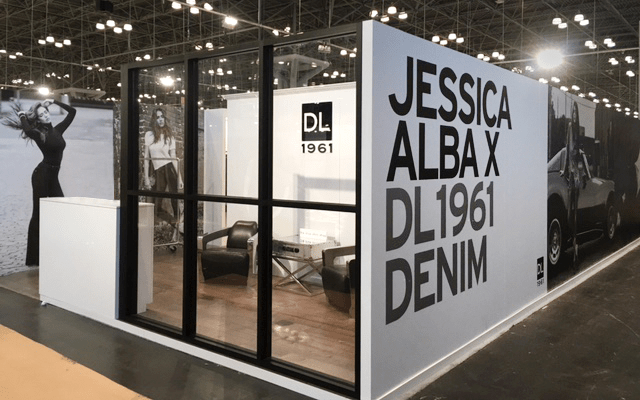 Custom Trade Show Booth Wall with Glass Partition for DL 1961
A CONSIDERATION OF FUNCTIONAL NEEDS
No matter what type of expo you're going to be involved in, having something that's custom and creative can bring them a lot of value. It can also help the people who are coming to the show, too, as they look at companies and make their choices for who to work with in the future. Functional needs are a part of that, and the trade show display walls often need more than just a place to hang products. Some of our customers want closets, or even dressing rooms. Our experienced team will listen to the vision of the brand and can provide ideas and suggestions to make the space work and stand out at the event.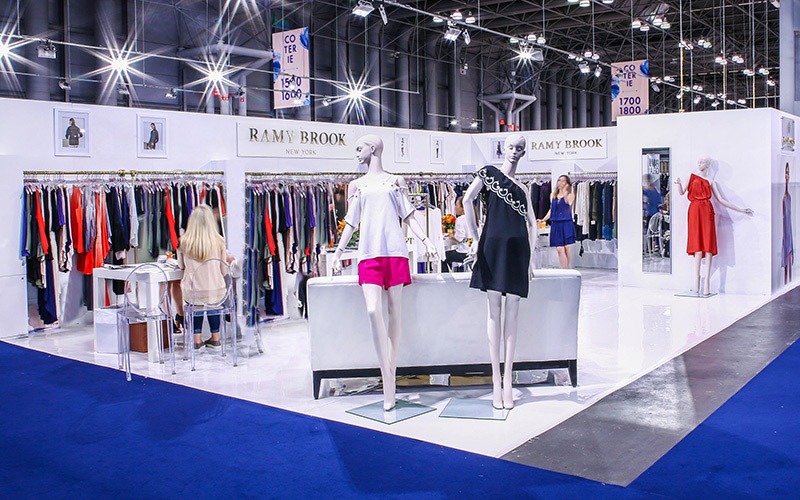 Custom Trade Show Booth Wall with Changing Room for Ramy Brook
OUR CAPABILITIES MAKE TRADE SHOWS EASIER
We're proud to offer a proprietary system for our modular trade show walls. With a custom design and some creative development, we can offer corners, ends, and T-shapes that can all be divided up or mixed and matched. These available designs will fit almost all trade shows, from the ones that are measured in meters to those that are measured in feet. Having solid walls is important, because it separates one booth from another much more easily than cloth and reduces noise and distraction, as well.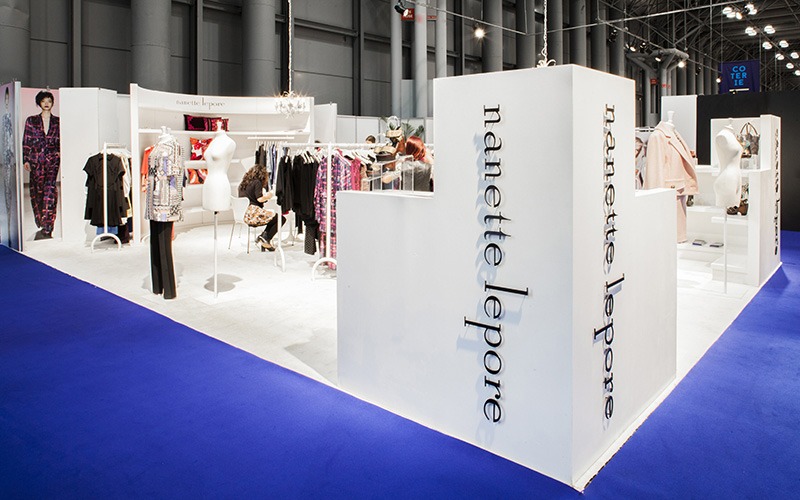 Custom Trade Show Booth Wall for Nanette Lepore
One benefit our trade show display walls offer is that they are great places for decoration or painting. They work much better than fabric, and they can be enhanced with graphics, garment racks, logos, shelving units, display hooks, and much more. That's all possible with these hard walls. One thing we may not recommend is use audio/visual enhancements as most trade shows have set rules against that.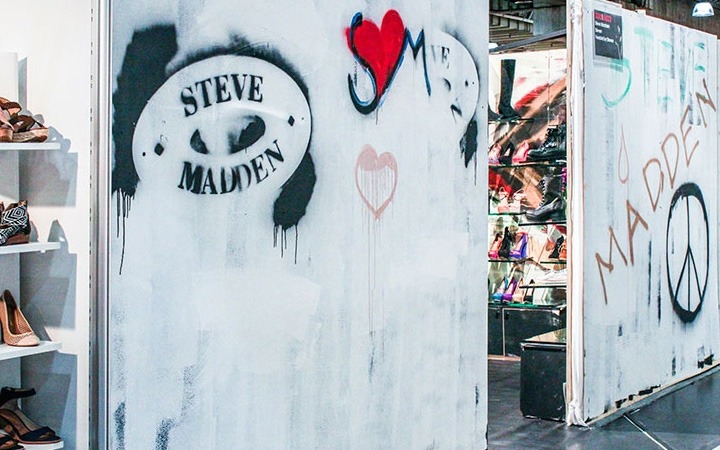 Custom Trade Show Booth Wall with Painting for Steve Madden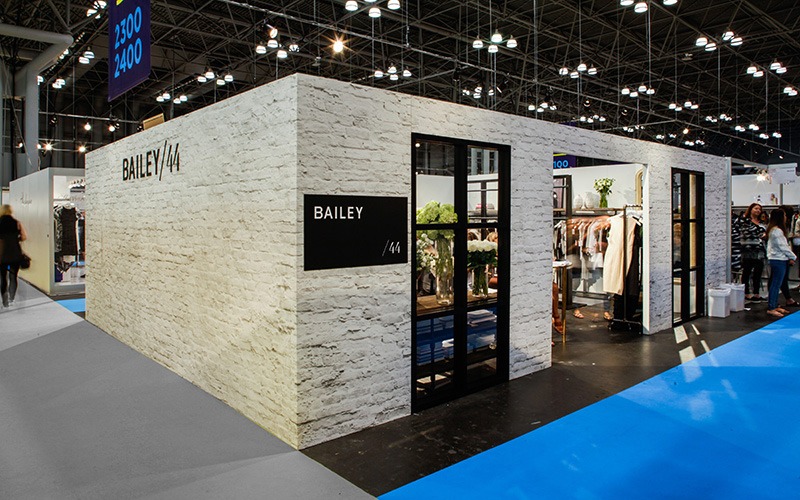 Custom Trade Show Wall with Faux Brick Finish for Bailey 44
EXPERIENCE WITH RULES AND REGULATIONS
We have the experience needed to handle the rules and regulations for trade shows. Each show has its own rules, and we've worked with so many of them now that we know what to look for. For example, some shows have rules that the walls of the booths can't be more than eight feet tall. In other shows, those same walls have to be at least eight feet tall or higher. By knowing that in advance, we can work with our clients more easily and make sure they get modular trade show walls that will fit their needs every time.
Trade shows also have other rules that have to be followed, such as work rules and neighbor rules. In some cities, the requirements for who can work on putting up trade show walls are different than they are in other cities. That has to be considered, depending on where the show is located. All shows also require these walls to be safe and fireproof. By knowing which rules are everywhere and which are city-specific, we can guide all our clients to the right trade show walls so they'll have what they're looking for.
Understanding how rules and regulations at various trade shows affect our clients is a big part of what we do, but it's not the only part. We're also focused on what's common and expected for their particular expo, and on the graphics they'll want or need for their walls. We deliver more than just trade show walls, in that we also deliver peace of mind and a quality experience our clients can feel good about when they choose us to help them prepare for their next trade show and beyond.
Need help with trade show ideas for your business?