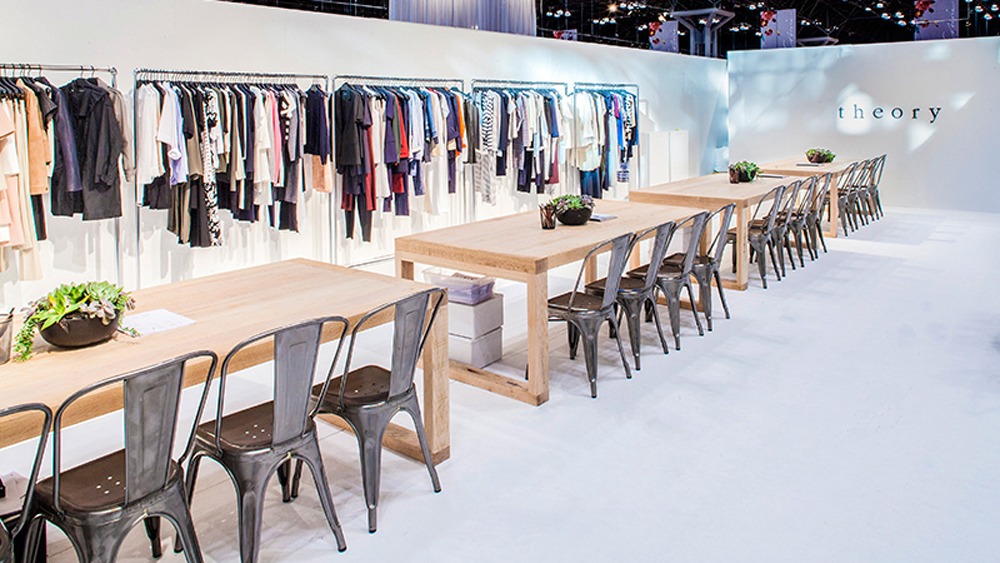 When designing your showroom, trade show exhibit, pop up shop, or any other location to showcase your clothing, you might mistakenly not even consider your clothing racks. There are many types of clothing racks that can work to enhance your brand's voice. Some options include long and short, reinforced, hollow, solid, hanging, permanent, mobile, and more. Whether you're looking to rent clothing racks or have custom racks designed and fabricated, David G. Flatt is the place to turn. As an experienced clothing rack rental supplier, the source for all business needs, as well as for coat rack rental NYC, you can depend on their expertise to showcase wardrobe.
Small and large businesses alike, particularly those in the clothing industry, find the types, style, and even customized clothing rack solutions they need at DFlatt. Here's why you should choose DFlatt for your clothing rack and custom clothes hanger rentals.
AN EXPERIENCED CLOTHING RACK SUPPLIER
With our tooling, skilled craftsman, CNC machining capabilities, and state-of-the-art sheet metal shop, it's a natural fit for DFlatt to create heavy-duty, rolling rack, and other types of rental clothing racks. Most of the hangers and racks we provide are for trade shows, events, and retail space design. For these events, we work with the designer to design the booth with the racks and hangers. If the client has a specific theme, like rustic, we will use a blackened steel rack. Which involves a chemical process that oxidizes the metal to produce a dark finish.
Furthermore, if the designer wants to mimic their store, we can customize the clothing rack rentals if we don't have it in stock. For Amanda Uprichard, we used stainless steel racks and white wooden hangers to make it look like people were walking into their NYC store. 
If a client likes clean lines, we can do square stock vs. round. In designs with clean space, we like to lean towards white finishes. As you can see, for our client Twenty, we went with the white gloss powdered racks and white wooden hangers to keep the clean and polished look our client was going for. 
Our experienced team understands that there are many needs and reasons for rolling rack rentals and that naturally means a variety of different styles and types of clothing racks. Take a look at our trade show exhibits and retail space designs to see more examples of our clothing racks and hangers on display. 
CLOTHING RACK AND HANGER VARIATIONS
DFlatt has many styles and options for racks and hangers. The clothing racks we offer come in a ton of different width and height sizing options. Some common sizes include 48" / 60" W, and 65" H.  When transporting the racks some are fixed due to their size or weight, but some can be disassembled and reassembled. There's also a range of color variations such as:
Blackened Steel

Black Gloss Powder Coated

Black Matte Powder Coated

Stainless Steel

White Gloss Powder Coated

Brass

Chrome

Welded Tubing

Brushed Stainless Steel
As far as hangers are concerned, suit hangers, shirt hangers, and pants hangers are offered in a variety of sizes and styles, such as:
Natural Wooden 17" shirt and suit hangers

Natural Wooden 14" pant hangers

Black Wooden 17" shirt and suit hangers

Black Wooden 14" pant hangers

White Wooden 17" shirt and suit hangers

White Wooden 14" pant hangers
For our client Theory, we used a brushed chrome rack and black wooden hangers. Here at Dflatt, we deliver reliable and quality clothing rack options. If we don't have something that works perfectly for you, don't stress, we can fabricate custom racks exactly to your needs. 
THE KIND OF HANGER AND COAT RACK RENTAL NYC BUSINESSES DESERVE
It doesn't matter if it's a heavy-duty coat rack or a wardrobe that is taken from location to location, where a fixed rolling rack would work best –  if it matters to you, it matters to DFlatt. The hardworking people and businesses of NYC are part of the fashion epicenter of the world, so many trends, styles, and fashions are born here. Our goal is to make your products stand out on our racks. 
GET THE BEST FURNITURE RENTAL FROM DFLATT TODAY
If you are looking for clothing rack rentals, then you need to look no farther than DFlatt because we're the source and your answer for clothing racks and hangers. For more information on our designer furniture rental, to place an order, or to discuss clothing rack ideas or your needs for garment racks and hangers, contact us today!