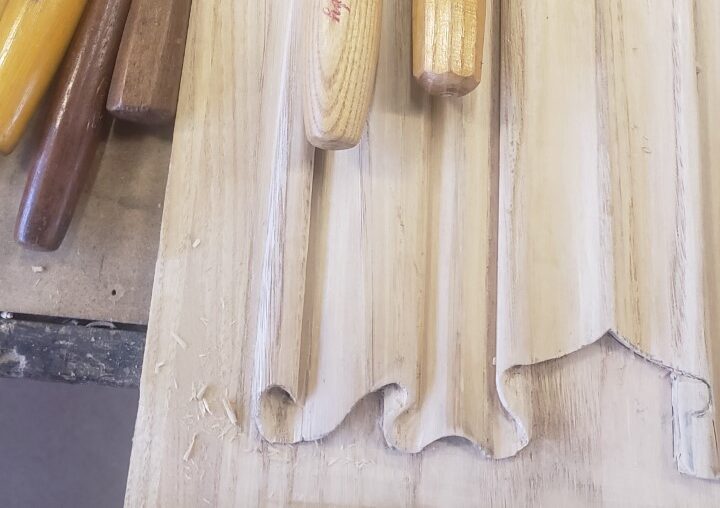 At David G. Flatt, LTD, we love great design, especially when we're able to integrate our custom woodworking. We've got a talented team and a full-service shop. We combine the power of machines, tools, and our artistic imagination to develop installations that purvey powerful messaging, while compelling action. For clients looking for art relief carving or other custom design features, we offer the unique fine woodworking solutions you need!.
What is Antique Linenfold Paneling?
Linenfold Paneling, a style of antique, low-relief carving, is just the latest of our custom woodworking projects. This style of oak-wood panel first originated in 14th century Europe as a decorative design that imitated the look of folded linen. It's just one example of how we're able to integrate a flexible yet stable design into a custom woodworking project.
Custom Woodworking Services at David G. Flatt, LTD
Unique Design Shop
We take your custom woodworking vision and make it a reality, with 3D-scaled custom drawings and our full-service workshop. We create unique, high-quality display booths that mesh with your brand and style, whether you're looking for something rustic or more of a New York City look. We've got you covered no matter what the custom design is that you need.
Custom Furniture
Our woodworking design capabilities are not limited to the constraints of a simple design installation. We're able to create furniture, accessories, and other custom exhibit features like architectural millwork, beds, bookcases, chairs, desks, dressers, kitchen cabinets, nightstands, and tables.
CNC Machining
Beyond the designers and installers, we've got a team of finishers, CNC machinists, as well as wood and metal craftsmen. We have the skills, knowledge, and experience to deliver the custom wood-and-metalwork infused installation that's timeless and unique.
Key Takeaways:
Linenfold paneling is a style of unique, low-relief carving that first originated in 14th century Europe.
Our custom woodworking services include a unique design shop, custom furniture, and CNC machining.
We create unique, high-quality display booths that mesh with your brand and style.
What Sets David G. Flatt, LTD Apart?
David G. Flatt, LTD has more than 25 years of experience, with full-service woodworking services. As a top-notch trade show service company, we take special care to make sure our custom installations emulate the design you first envisioned.
We pull off that handcrafted, unique, and carved look through the skills and talent of our creative team of professionals. We pride ourselves on having the in-house talent and experience to design, consult, draft, install, and build unique projects and exhibits that make your wildest dream a reality. Give us a call to find out how we can deliver the custom woodworking solutions and styles you need today.
Call David G. Flatt, LTD at 718-937-7944 to Schedule a Free Consult Today!