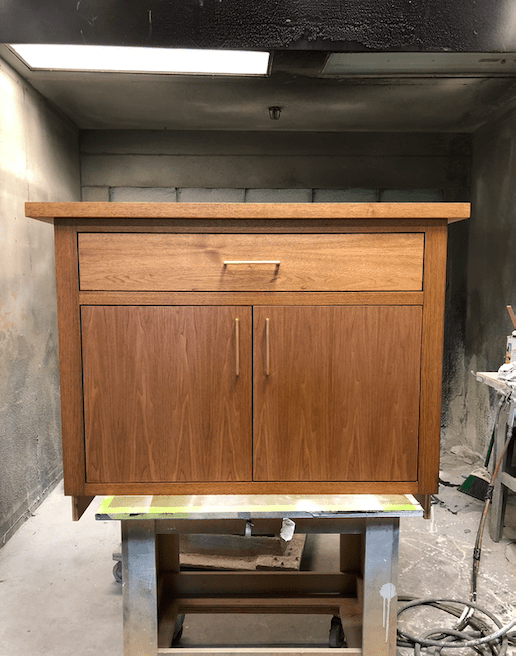 When it comes to wood cabinetry, there are plenty of options. Luckily, David G. Flatt, LTD, is your go-to wood cabinet maker that offers you both expert craftsmanship and competitive pricing. With that in mind, the following is a look at one of our latest projects: cabinetry for Gabriel's Bar and Restaurant from start to finish.
The Process
We began the process using high-quality, thick, and sturdy slabs of wood. Given the nature of the request, we wanted to make sure that the cabinets were created using wood that is beautiful and that can stand the test of time.
From there, we built the outer frame of the cabinets, ensuring that it was even and well balanced.
Next, we started installing the shelves themselves. This is a process that is done carefully and efficiently, as a cabinet cannot be effective unless the shelving is installed correctly.
After that, we proceeded to customize the cabinets as the client requested. In this case, they wanted to order custom cabinets with a slim drawer at the top, with two large compartments underneath.
Then, we carefully installed the shelves and compartments to ensure that the cabinets were created in the manner requested.
Benefits of Working with David G. Flatt, LTD
If you are searching for those skilled in woodworking, David G. Flatt, LTD may be perfect for you for the following reasons:
Uniqueness: One of the top benefits of working with us is that we champion unique designs. We go above and beyond to make sure that every piece is created in a manner that allows its uniqueness to shine through.
Cost-Effectiveness: As mentioned, our designs are also incredibly cost-effective. When shopping around with brands of our caliber, you will find that our price points are tough to beat. This is a fact that we take pride in providing our customers with impeccable value without breaking the bank.
Beautiful Craftsmanship: Additionally, we have a team of highly qualified woodworkers who make sure that your wood pieces are perfectly crafted. There is never a need to worry about the quality of the materials or the level of craftsmanship being put into it. Rest assured, we take all of our projects seriously, no matter how big or small. No matter what type of custom piece you order from us, you can be sure that it will meet or exceed your expectations.
Key Takeaways:
If you are in the market for custom cabinetry and millwork, your friends at D. Flatt have you covered.
We are skilled at providing our clients with custom pieces that are aesthetically pleasing and cost-effective.
Our high-end custom furniture is unique and of superior quality when compared to other products with similar or even higher price points.
Overall, if you are looking for high-quality wood cabinet makers, we're here to help. Here at David G. Flatt, LTD we make creating beautiful custom wood pieces our business. So, rather than shopping around or gambling on companies that may overcharge you or give you inferior quality products, entrusting your woodwork with D-Flatt is always an excellent choice. Simply contact us today to discuss your vision and how we can bring it to life. We can't wait to work with you!