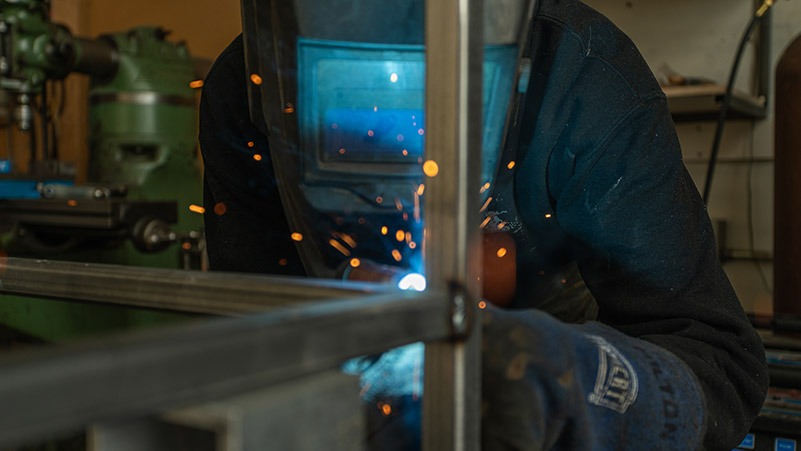 Here at David G. Flatt LTD, we love creative collaboration. When we take on a custom metal fabrication project, our team of designers, engineers, and fabricators works with our customers in order to achieve the best results possible in furniture, signs, set design, and/or large-scale art production. Read on to learn more about our custom metal fabrication services today.
What's Special About David G. Flatt, LTD?
We've invested in skilled and creative people. As is evident from our designers, engineers, and finishers, we've put in a lot of hard work to hire the best of the best in the business. 
In our finishing spray room, experts apply lacquer, polyester, and other finishes. Our sheet metal shop offers welding, bending, and virtually every other wood and custom metal parts fabrication.
We also invest in high-quality tools. The standout among our tools is the MultiCam 5000 Series CNC Router. Having dimensions of 5'x10', as opposed to the standard 4'x8', the MultiCam 5000 allows us to cut significantly larger materials. Its two spindles mean we can cut at twice the speed of other CNC routers.
What Kinds of Metal Can David G. Flatt Work With?
Our team can work with just about any metal, including steel, brass, and aluminum. Our designers can source it and make sure it has the weight, finish, and look you need. Specialized metals can take longer to source. This is where lead time comes into play. Some options might not be available as quickly as others.
With their considerable knowledge of metals, our designers can often recommend high-quality alternatives that provide the same look and functionality at a lower price and/or shorter delivery time. The goal is to deliver the best solution at the best price.
Why Should We Choose David G. Flatt for Custom Fabrication?
Our shop sets itself apart from other custom fabricators in at least three ways:
We say "yes." When customers come to us with an idea, we help them turn a possibility into a reality. When other fabricators say "it can't be done," we take that as a challenge.
We're fast. We've heard from customers who've received a finished project from us before other vendors have managed to get them a quote.
We love our jobs. It doesn't matter what time of day we receive a file from a customer. We look at it, provide an answer and get to work. We think any job presents an exciting opportunity.
Let us put our creative energy to work! Contact us today at 718-937-7944, or email [email protected] for all your custom metal fabrication needs!