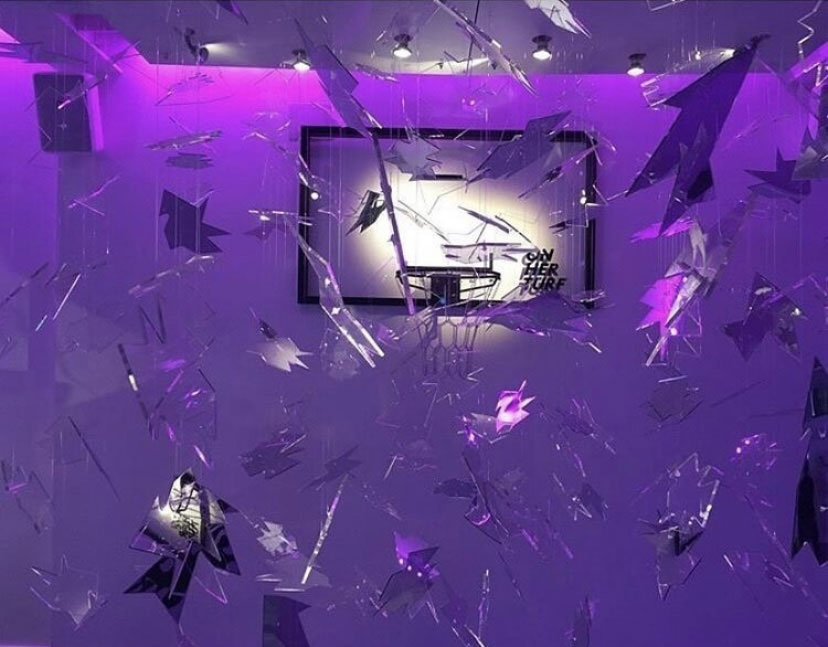 It doesn't matter who, where, or what type of project, they all begin with planning. The success of a project is always determined by executing with precision. Thus, from planning, executing, and completing a project, DFlatt delivers expert professional fabrication services.
CUSTOM FABRICATION SERVICES FOR TRADE SHOWS
At DFlatt, trade shows are in many ways the heart of our business. Much of that truth stems from having more than 25 years of experience working as custom exhibit designers. With trade shows and convention exhibits such as The National Restaurant Show, Coterie, and many others to credit, we offer our clients the tools and resources to make their visions a reality.
For an event called "On Her Turf," we created this awesome display to mimic a shattering backboard. We cut mirrored acrylic into shards and hung each one individually from a ceiling by a plywood truss with integrated lighting. 
Using the most advanced CNC machining tools and smart custom fabrication technologies, along with our team's expertise provides the opportunity to grow into other areas including the maker space. That includes working with smaller designers and business manufacturers on projects in Opendesk (an open-source platform) among others.
CUSTOM FABRICATION SERVICES FOR DESIGNER RENTALS
When it comes to quality and style, our custom fabrication services offer unrivaled options. Browse their exhibition of furniture rentals to discover your next piece or a great idea for that upcoming trade show, pop-up space, or event. If we don't have what you're looking for we can create a custom furniture piece for you with our CNC machining capabilities. 
The Cantilever Chair is a custom design project completed by David G. Flatt that is now displayed by fashion designer, Elie Tahari. This chair needed to be a gesture that communicated stability with flexibility and strong continuity of form and line. The chair's unique design was influenced by David Flatt's tendency to lean back while seated!
CUSTOM FABRICATION SERVICES FOR RETAIL SPACE DESIGN
The world of retail space design is about time, creativity, and the means to make it happen. Products and venues change, and with every change comes an opportunity to find new ways and concepts to showcase and market goods. Innovation is the motor that drives metal fabricators, designers, and others in the industry.
CUSTOM FABRICATION BEHIND THE SCENES
While the final result of our diverse fabrications are impressive, it's how they are made through the magic of custom fabrication that takes center stage. From the aforementioned technology like Opendesk, where DFlatt is an NYC CNC contributor, to advanced tools and CNC machining, the road from an idea to a reality is often an amazing one.
From wood to custom metal furniture fabrication needs, your project is provided with a full metal sheet complete with bending, welding, and laser cutting. The real rockstar of the shop, however, is the MultiCam 5000 Series CNC Router. It can do unbelievable things using the most cutting-edge CNC machining technology since it has two spindles allowing double the cutting speed. There are a few other custom welders and fabrication shops that can deliver the same quality.
FOR YOUR CUSTOM AND DIVERSE FABRICATION SOLUTIONS
Have an idea, need an idea, or need the help of custom fabrication company that has the resources, tools, technology, and people to make it happen? Delivering custom and diverse fabrication services set us apart, and our ability to make an idea a reality is what makes us unique.
If you need custom fabrication services, from the planning to the execution and delivery stages, you'll want experienced, professional, and expert fabrication services from a company like DFlatt. Contact us today for more information or to discuss an idea, and let's create something great together.